Fitness class with your Dog - Santa Monica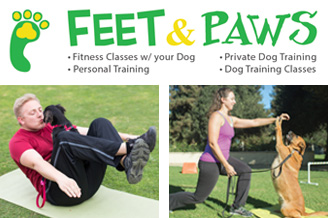 Fitness class with your Dog - Santa Monica
Full body workout for you and your dog while picking up dog training tips in this super fun class! Limited space so book now! Thursday July 19, 7pm Santa Monica
Business Name: Feet & Paws
Business Description/type of business: Fitness Classes with your Dog
Address: 3201 Airport Ave., Santa Monica, CA
Website: http://www.feetandpaws.com
Email Address: tracy@feetandpaws.com
Name of offer/Class: Tracy James
Description of offer/class: This all-levels class is the perfect way to launch, rejuvenate or compliment your fitness routine. It's an action-PAWcked class that focuses on cardio, strength, and agility training for you and your dog while also integrating basic (and beyond) dog obedience skills. Don't worry, plenty of fitness form cues and dog obedience tips provided!
Dates and times of offer/Class(es): July 19, 7pm
# of offers /spaces available: 15
Any special equipment needed: All dog breeds and fitness levels welcome. Dogs must be at least 6 months old, behave well on leash, friendly and socialized, and up-to-date and fully vaccinated (Rabies, DHLPP, and Bordetella).
Additional Info: REQUIRED*
Your dog and their current vaccine records
6 ft. hands-free leash, nylon OR leather leash **No retractable leashes**
Flat buckle collar, martingale, or harness **No slip collars. Prong collars acceptable with instructor approval**
Gym Shoes
Water (for you and your dog)
Potty Bags

*For your team's safety, you will not be able to participate in class without these items.